About Us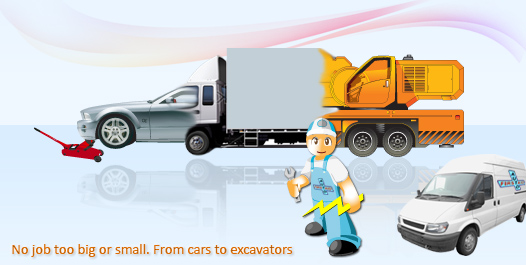 We'll Fix It or It's Free!  First Aid Auto Mobile Auto Electrician
Our cars or trucks never break down at a convenient time, do they?  They sputter, stop and refuse to start only when we're in a hurry, running late or on a frantic errand of utmost importance, it seems. There you sit on the roadside while your kids are waiting on the curb somewhere for you to pick them up.  There you sit next to the road while other cars are whizzing by and you are missing a key business appointment.  Yes, there you sit, stuck, motionless, going nowhere, while the hands of the clock keep moving relentlessly forward. That's why it's critical to have at your fingertips the most reliable contact info for on the road breakdowns:  First Aid Auto.  First Aid Auto, Mobile Auto Electrician servicing Melbourne, Carlton, Elwood, North Melbourne, Middle Park, South Melbourne, St. Kilda, Kew, Frankston, Narre Warren, Dandenong, Cranbourne, Carrum Downs, Rowville, Vermont, Ringwood, Pakenham, Camberwell, Bentleigh, Richmond, Caulfied, and surrounding areas, will respond to your cries for help in a jiffy.  Their smiling, expert auto technicians will quickly arrive on the scene of your auto mishap with all of the tools and parts necessary to solve your automobile problems and get you back on the road in no time at all.
Most of the breakdowns and operational issues with today's vehicles are electric or electronic in nature.  First Aid Auto understands this and their mobile technicians carry all they need to solve whatever automobile problems may arise.  In fact, First Aid Auto is so confident of their mobile equipment and technician expertise they guarantee they will fix whatever auto problem you may have or their trip and work are absolutely free!   That's right:  If they can't fix you up and get you going again, you owe them nothing.  You don't get a service any better than that!
We never know when our cars or trucks are going to break down, but we can be certain that it will be a huge inconvenience when they do.  Always keep on hand in the car for ready reference the phone number of First Aid Auto; better yet save it to your cell phone.  There's no telling when you're going to need it, but one day you will, and then you can count on First Aid Auto riding to your rescue!  If you don't want to sit idly on the roadside while the whole world passes you by, commit this number to memory 1300 661 526. One day you'll be glad you did.
SPEAK TO THE AUTO ELECTRICIAN RIGHT NOW
LOCAL CALL COST
1300 661 526